Over the week, there have been waves of backlash at The Metropolitan Opera's newest season announcement. A recent Washington Post made the rounds, taking to task the institution's insistence on an entirely white and male composer list, as well as a completely male roster of conductors taking the podium.
Chicago is especially no exception, as evidenced by the Lyric Opera's lack of awareness in their recent copy for their 2018/2019 season right on their website:
"We pride ourselves on bringing you diverse programming, and the 2018/19 Season is no exception. Verdi and Puccini in all their passion, elegant Handel and Mozart, romantic Massenet, mighty Strauss and Wagner—there's no end to the riches that will make this season one to remember."
As a white man, there have been and continue to be countless times in which I have needed to recognize that privilege, white supremacy, homophobia, toxic masculinity, and gender normativity are layered issues. It's easy to call a Nazi a racist because they are so obviously a racist. Not all racists are willing to take up that mantle.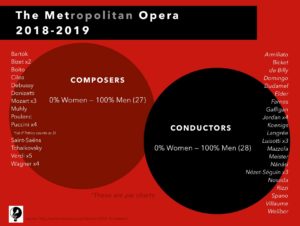 Recognizing that Classical Music has implied White Supremacy for centuries is hard for those that study the art form. In fact,  that correlating The Met's continued programming of dead white men to the rise of White Supremacist tendencies in America is not a far stretch is starting to become apparent to those that follow and review the company's season announcements.
Of course Italian Opera traditions are rich and are the backbone for many composers, but when an American institution, founded on the grounds of Natives and whose nation's economy was fueled by the labor of slavery continues in 2018 to program exclusively white men, there's a message being sent to those who don't fall into that category.
Read the full article that mentions MTEW.org here. 
Article by: Daniel Johanson
Source: Scampi Magazine